Breakfast today with Movie in the background: "The story of a blooming flower".
We drive back to Pyongyang.
Our travel guide who is not used to sitting on a car gets really car sick and we take a short break on the highway so that he can empty his stomach.
Within minutes a military guy starts watching us through the bush, a few minutes later a police guy on a motorbike shows up. The military guy uses his whistle to drive the police guy away. The ranks are clear here obviously.
On the way we visit a "typical" street and are allowed to take a walk.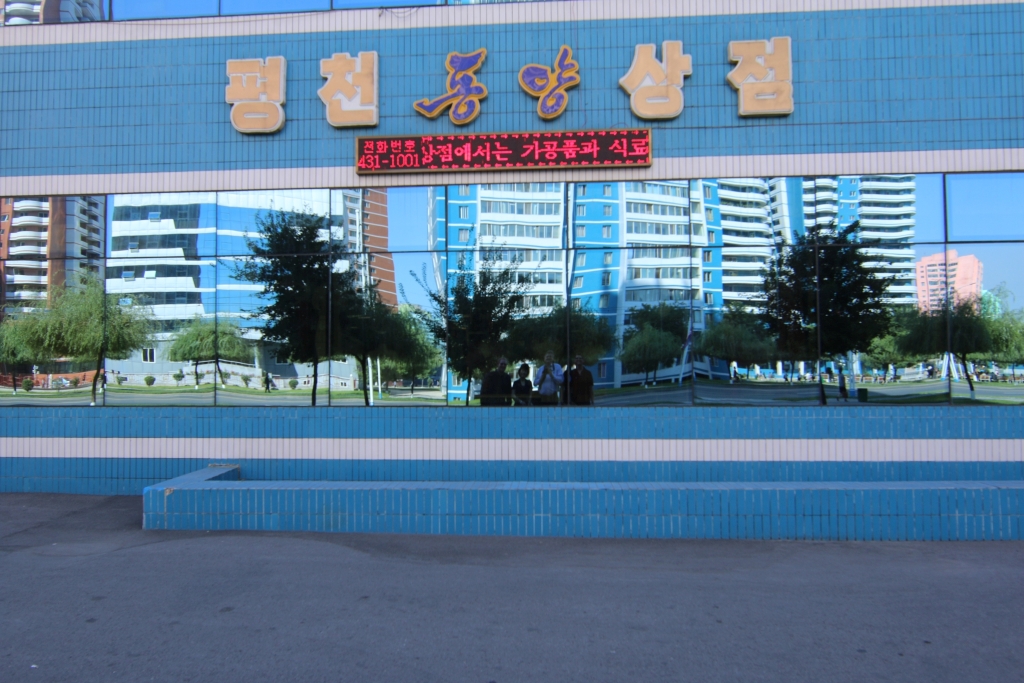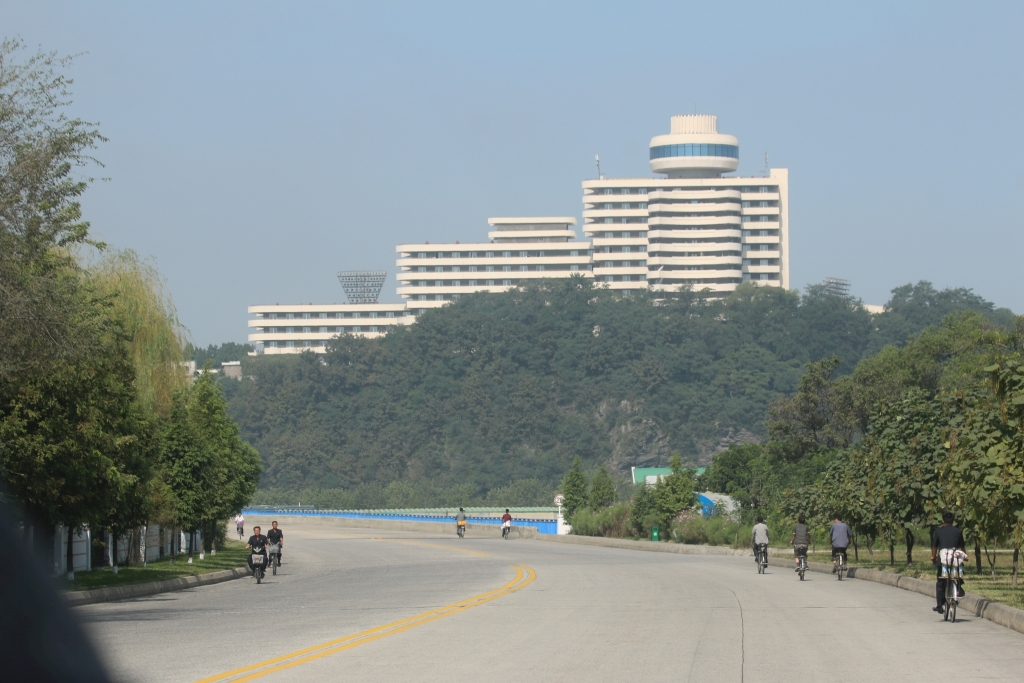 We visit the birth place of Kim Il Sung where we listen to some stories about his childhood and his past.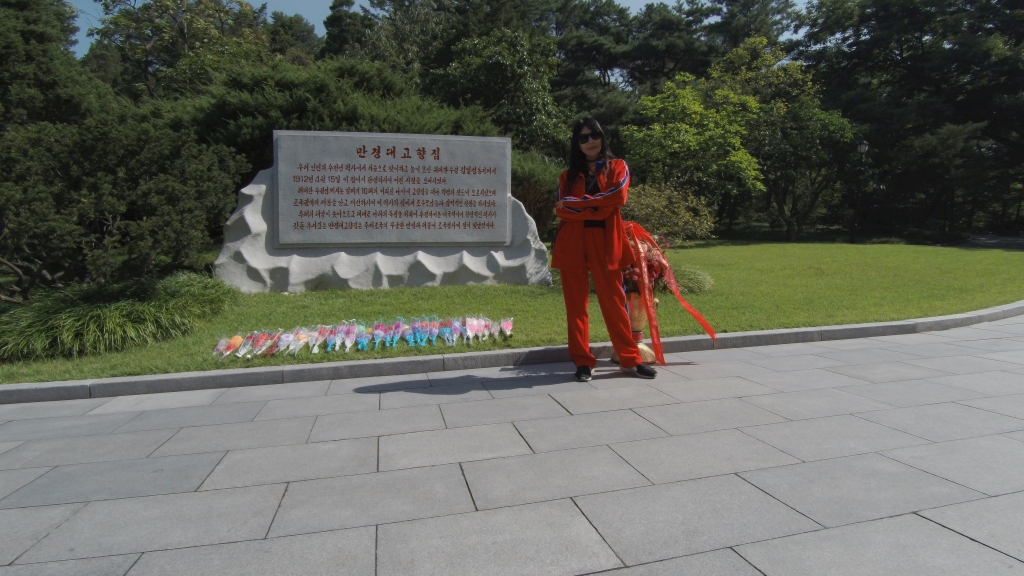 At the end of the tour there is a well with drinking water which promises a long life. We are being asked if we want to drink some water from there. Since we are not totally motivated, the guide asks us if we "do not want to live a long life". Actually…. The length of my life is really why I am thinking about drinking – or not drinking – it.
We take several walks on several streets which are maintained unusually well.
Since we are actually here also to see the celebrations of the 70th anniversary of Korea, we get a bit anxious that we might miss the parade. The travel guide seems also not really to know what is going on today and a lot of these walks seem to be for "wasting time".
One of these walks is in an area where they build 14 (?) stadiums, for each sport one.
The guide asks us if we want to walk to the restaurant. We say: "Sure". She then changes her mind and suggests to get on the bus since the restaurant is too far away.
So we get on the bus for 30 seconds until we arrive.
We eat the food and still are waiting for news about the parade. Until at the end of the lunch our tourguide tells us that the parade now is almost over.
We are quite bummed out.
We finally drive to a street where the parade passes by to see the last 20 minutes of trucks with soldiers driving by. Not really what we wanted to see. But still impressive to see the cheering crowd and how well foreigners are separated from the locals.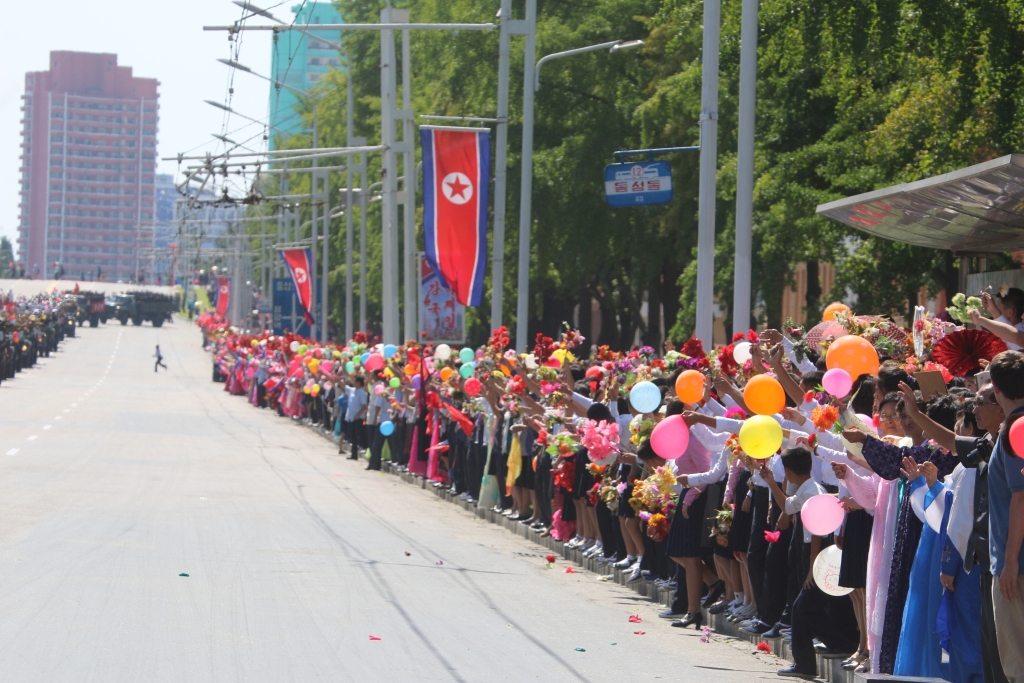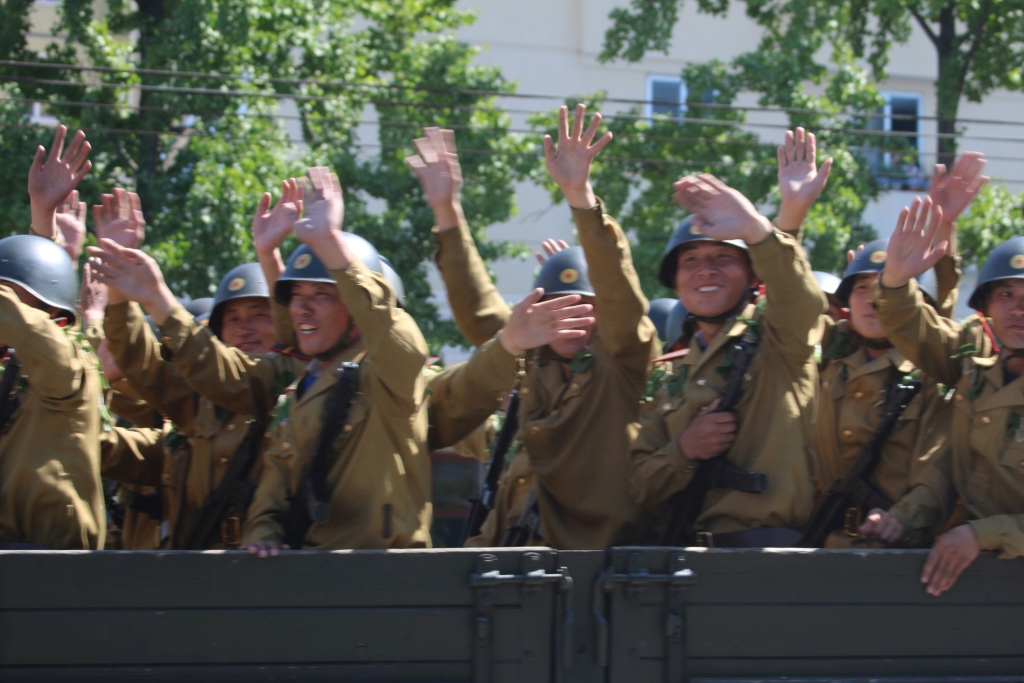 Around half an hour later we have to leave again.
We go back to the hotel: No clue what is happening in the afternoon. I take a nap until I get the message: Do not take anything, no money, no camera, nothing. Dress nicely. We will go somewhere. No information where.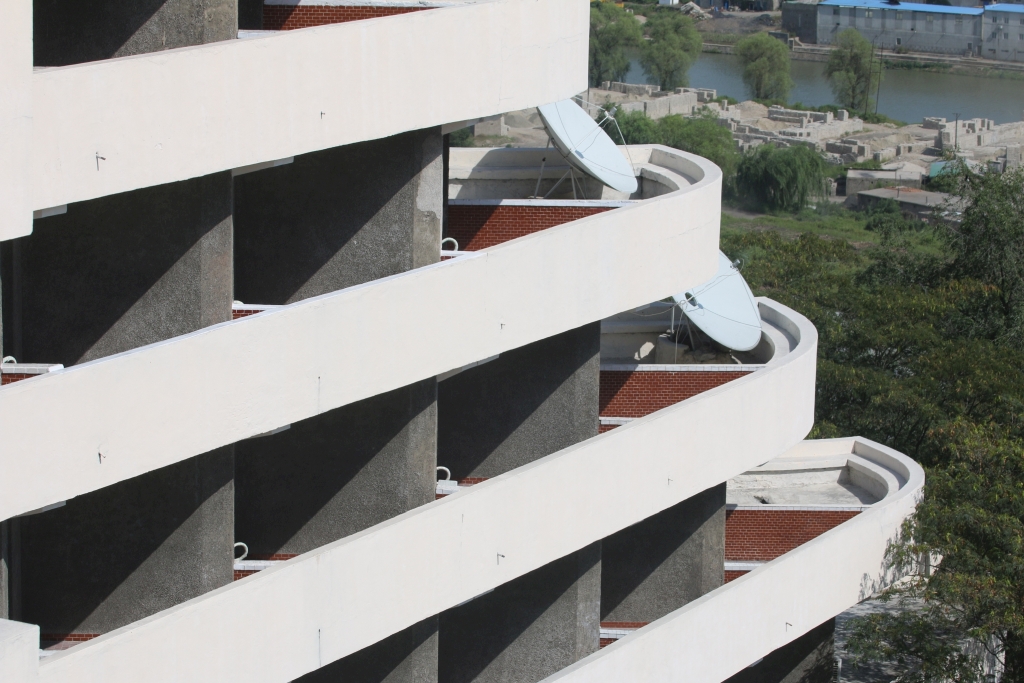 We are driven to some kind of big hall and have to get off the bus. Seems like all the foreigners are meeting up here…. In total it is around 60 big travel busses.
We watch some exhibition of the leaders of North Korea, some photographers taking pictures of this "typical" concentration of foreigners appreciating the pictures.
The military shows up and starts blocking the way to the busses. Still not really a clue what will be happening and even our travel guide does not know.
Turns out that the military is here to check us for weapons or other dangerous goods while we pass one by one their metal scanners and get back on the bus.
Will it be what I was hoping for… the mass games?
Yes it is. All the busses drive together to the stadium which is built for around 150.000 people. More than 17000 actors/performers make an impressive show.

This here is a a 3-minute Summary. I was around 50 meters to the right from the cameras taking this video 😉

But of course it does not start before Kim Jong-Un himself is there. We even can see him from our seats.
At around midnight we are back in the hotel. Around 8 hours almost nothing to drink, nothing to eat but still worth it. Who can say that he sat around 120 meters away from that guy?
We have a last "Aberfeldy-Whiskey"-Disinfection-Drink, take some pictures of the lighten up rocket hotel and say goodbye to one person in our travel group who will fly out early morning next day.