I admit it. I am a big fan of Xiaomi – and while in the beginning I had pretty much everything they had to offer, the portfolio grew that quickly that I cannot keep up with it anymore. Still, I am one of the lucky people who installed a Xiaomi Smart Home System with pretty many devices. In the future I want to give you a deeper insight about the single products, but at first let me share my Xiaomi product map with you: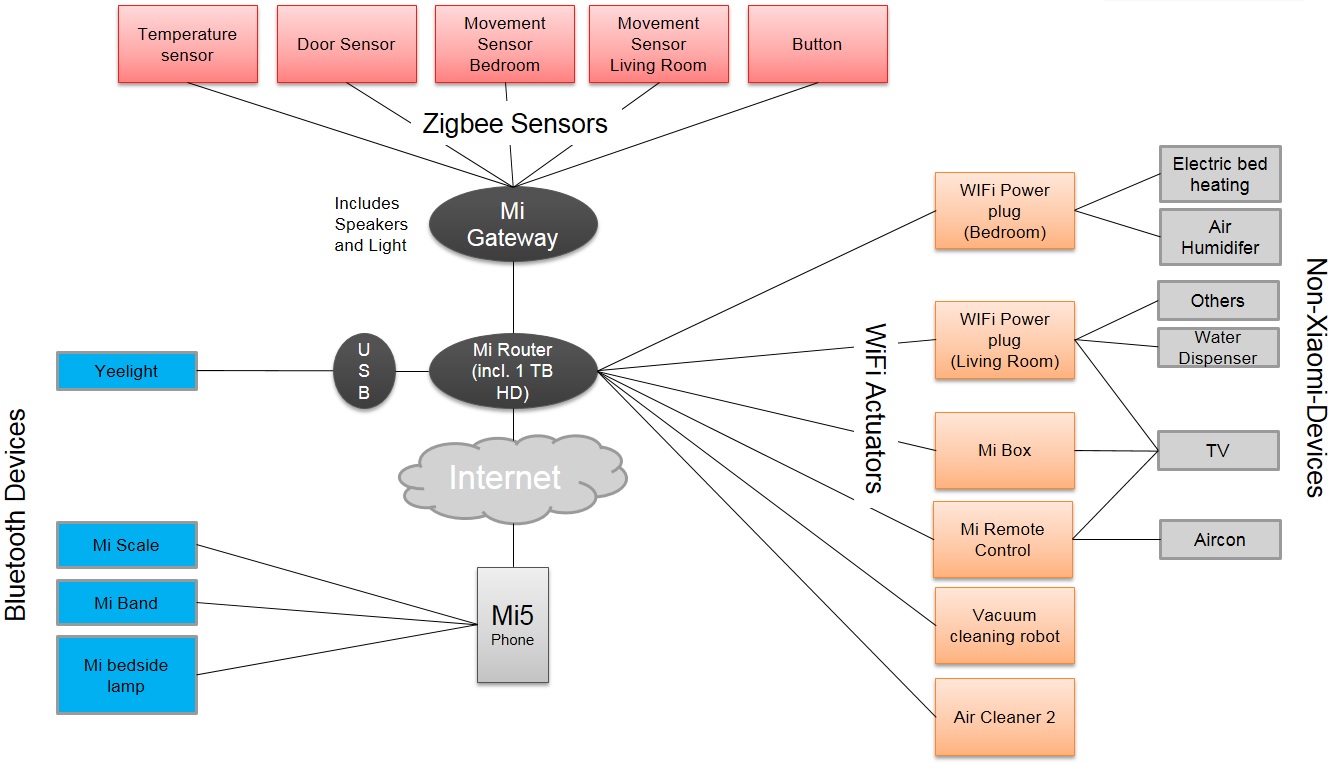 As you can see, I invested a considerate amount of money into this Smart Home system:
Mi Router with 1 TB Harddisk
Connected a Yeelight via a USB-stick for the router

Smart Power Plug / Power Socket for the bedroom (to control electric bed heating and air humidifer)
Smart power Plug / Smart power socket for the living room (to connect TV, Water dispenser and others)
Mi Box (with which you can watch a lot of movies and TV series online or directly from the Mi Router)
Mi Universal Remote Control (which can remote control (almost?) all Infrared devices
Xiaomi Vacuum cleaning Robot
Mi Air Cleaner 2
Xiaomi Smart Gateway
Temperature Sensor
Door Sensor
Movement Sensor for the bedroom
Movement Sensor for the living room
Switch/Button
Directly connected to my Xiaomi M5 Phone:
Xiaomi Scale
Xiaomi Band
Xiamo Bedside Lamp
The good Thing is: Even while i invested quite a sum, compared to other Systems it probably is still amazingly cheap. While some of the products deliver great value for Money, some others might might bring some inconveniences with it. This part of my blog is dedicated to Show you some of the upsides and downsides.
I also realized that there are lots of Reviews and tests online, but somehow I did not find any tests in real life situations. I hope i can fill this Information gap in the next few weeks.