According to our wishes, we get served "local food". It should be the same one as our travel guides but somehow it is hard to believe that this is not an upgraded version.
Took long enough last night to convince our guide that we do not have to eat "western breakfast" and she asked us not to blame her, if we do not like it. Well, we do like it.
On we go…
… to first buy flowers for the great leaders…
… which we have to donate here in front of the statues before we can start taking pictures.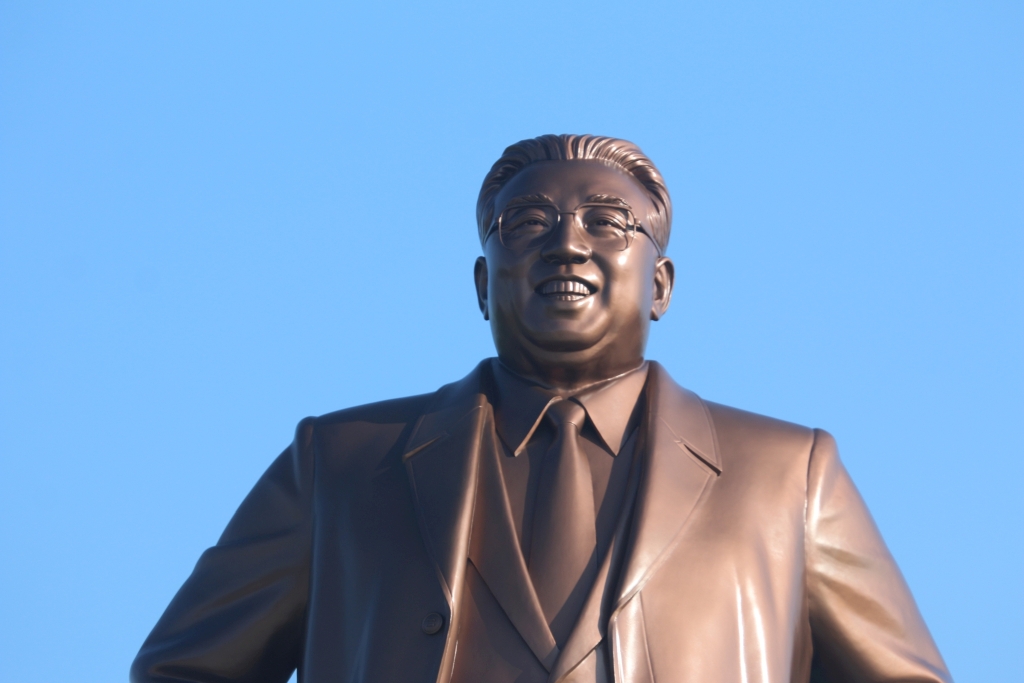 Pictures of the great leaders buildings everywhere.
We visit the West Sea Barrage, a big dam. The construction of the dam is introduced in a heroic video:

Interesting to note: Kim Jong Il helped the engineers to solve some technical problems during construction which they could not solve on their own..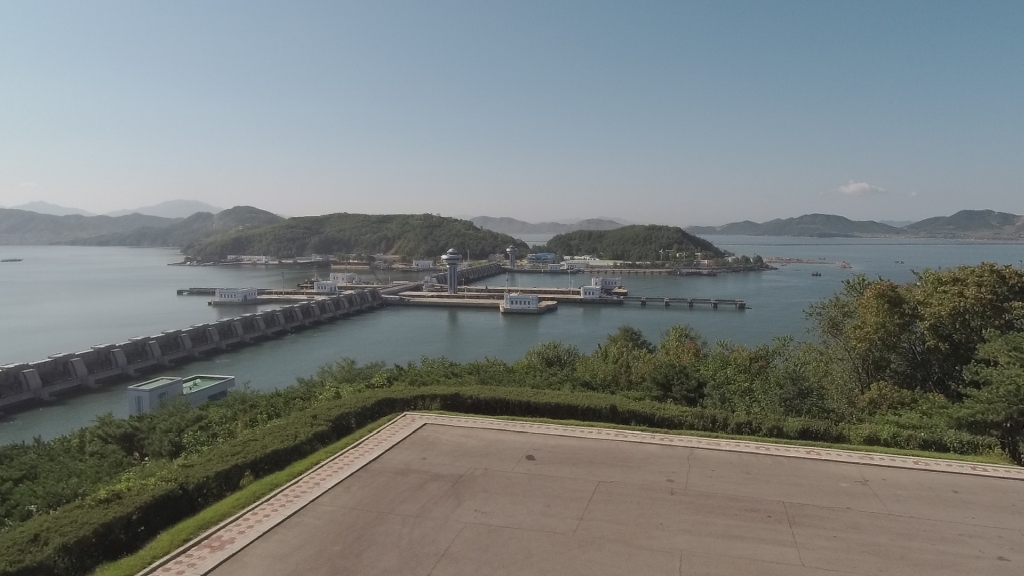 And of course military checkpoints on the way….
Next stop is a temple: Pretty nice actually.

Even more impressive: When we leave the temple, I see a long line of locals sitting there. As soon as we pass them, they stand up and walk to the temple themselves. Turns out that the temple was closed for the public during our visit.
We saw several construction projects on the streets – all of them done manually without machinery.
Taking pictures of construction is forbidden… somehow still this picture here happened.
Next stop. Some kind of grave of some king. Our bus is too big to take the street which goes there usually. Our suggestion to walk the last few meters gets declined: It is too far.
Indeed, it is around 100 meters to walk.
We get to see some pictures and hear some stories about how beautiful the grave is.
But it would be more interesting to actually see it.
No problem, for the additional "fee" of around 100 EUR the door opens. Per person.
I do not go myself but one person agrees to this and comes back with the message: Really impressive. And definitely not many people take this opportunity of the extra fee.
On the way we see some more streetworks: Tar is being heated up on something that looks like an oversized BBQ. The fuel to heat it up: Plastic.
Pictures were not allowed.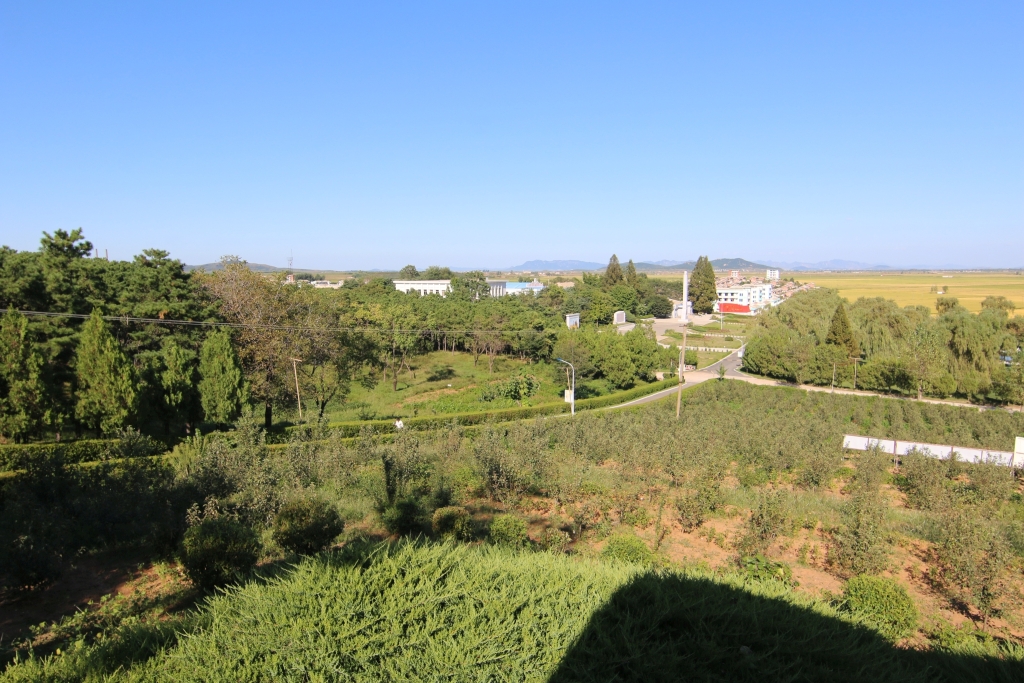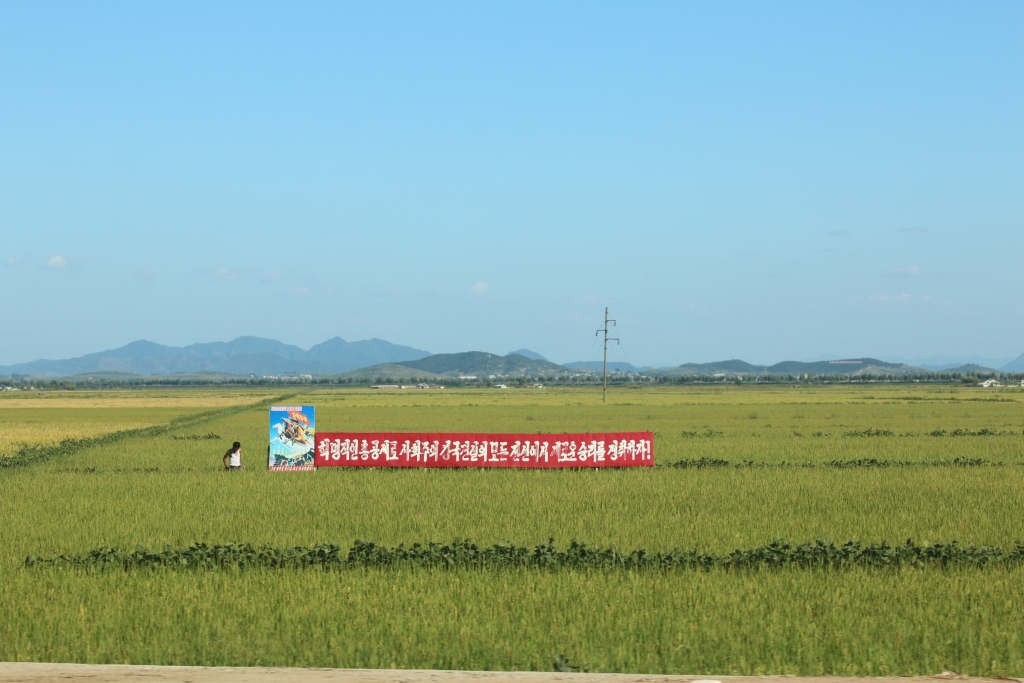 The empty streets never stop to amaze me.
At the first day we were a bit too shy to take pictures of the 8-lane-highway without any cars, we first wanted that the guides start to trust us.
Now the cameras are clicking much more.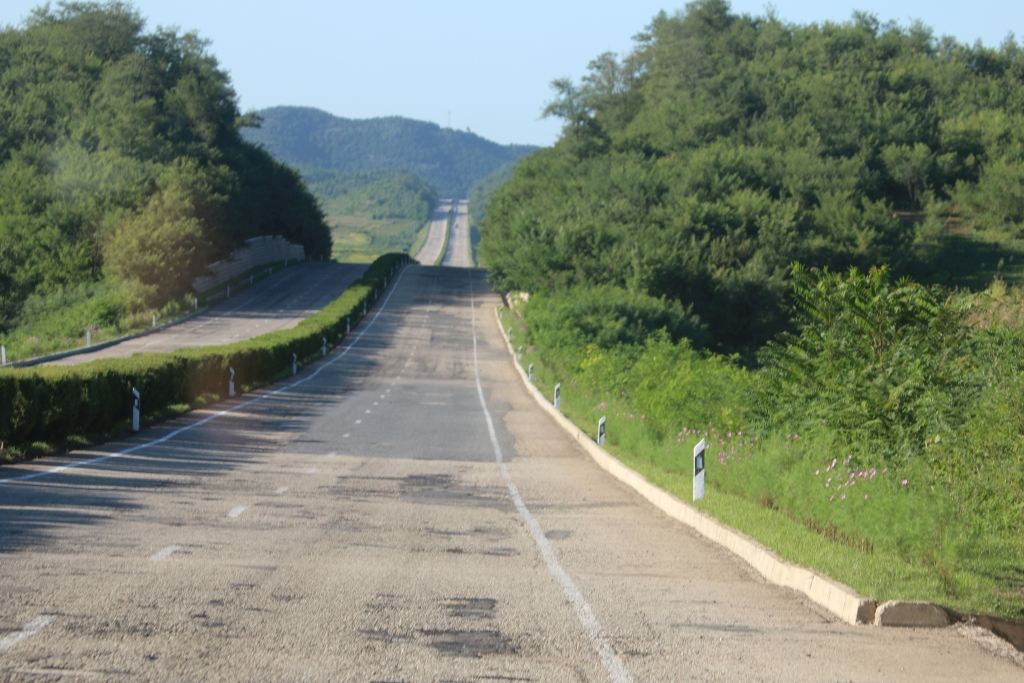 The posts on the side of the street are made of concrete.
Last station of the day is a farm village – seems to be one of the best ones, considering how often Korean leadership shows up there. Pictures demonstrate this impressively and some articles, which were inspected by Kim Jong Il, are being presented protected by glass.
Interesting Detail: Kim Jong Il helped the farmers to improve their output a lot.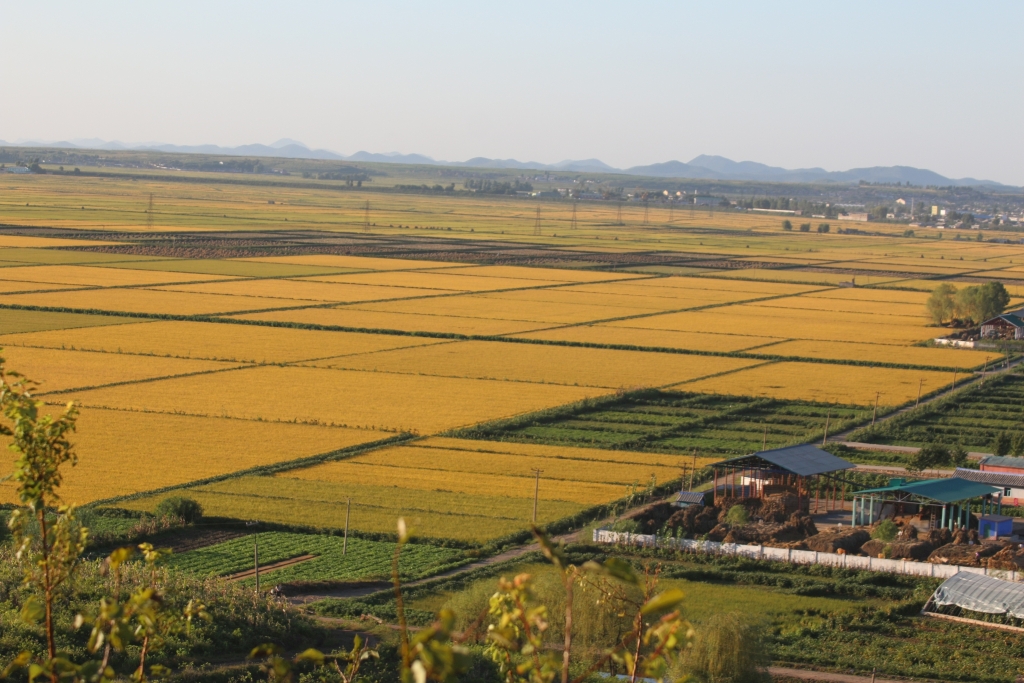 We have the chance to have a look in one of the houses. Interesting insight.
Somehow still there are doubts that someone really lives in here, all looks more like a showroom.
And why the TV is not connected and why there is a computer screen without any computer is also a bit questionable.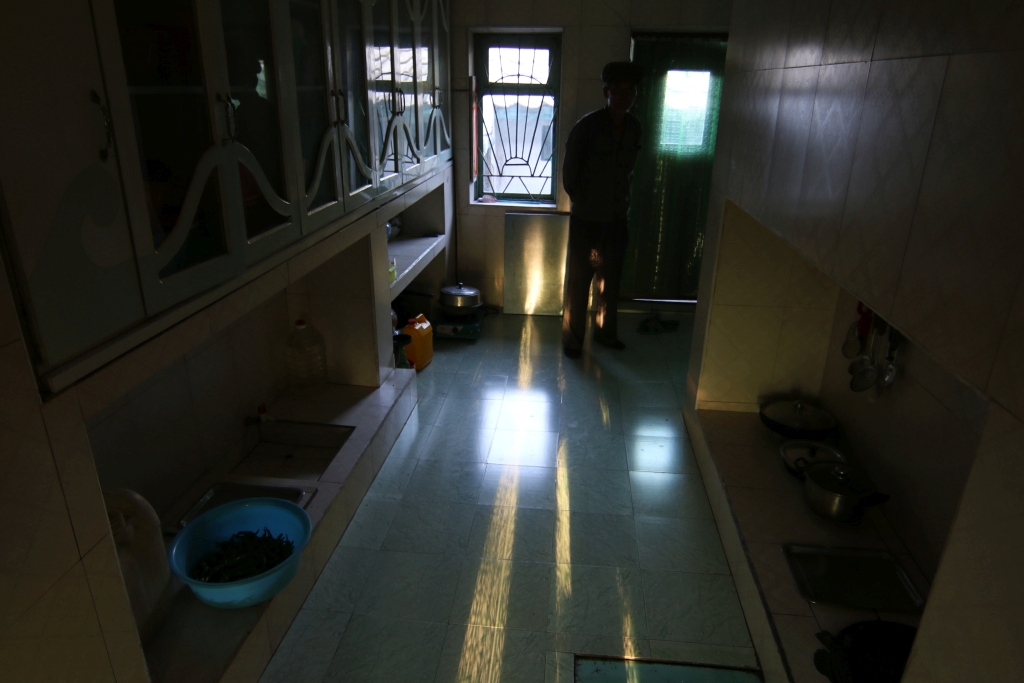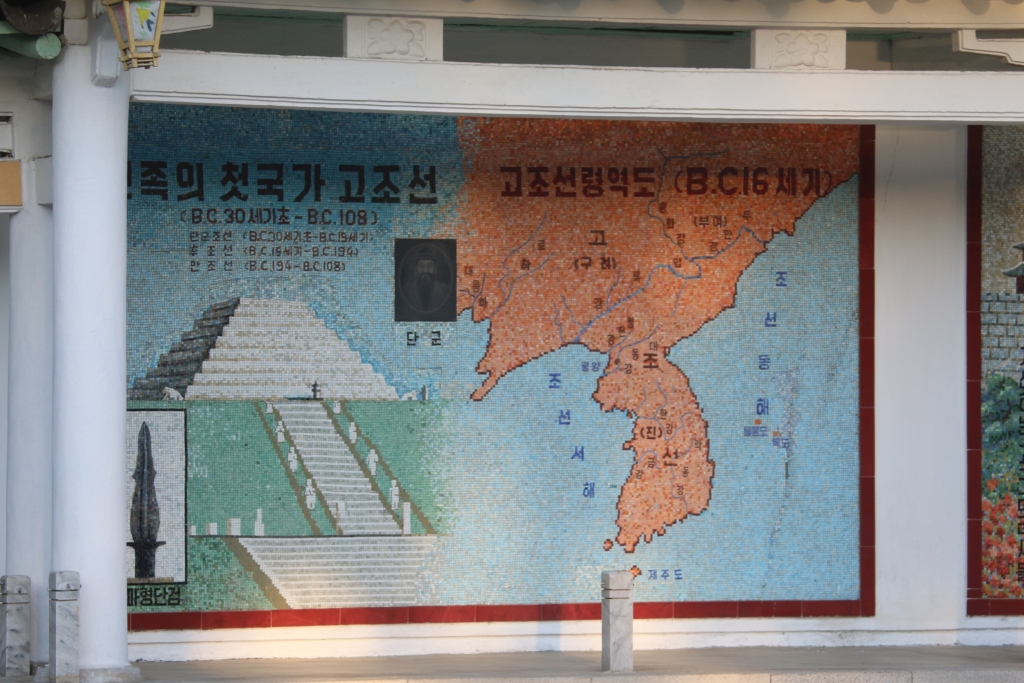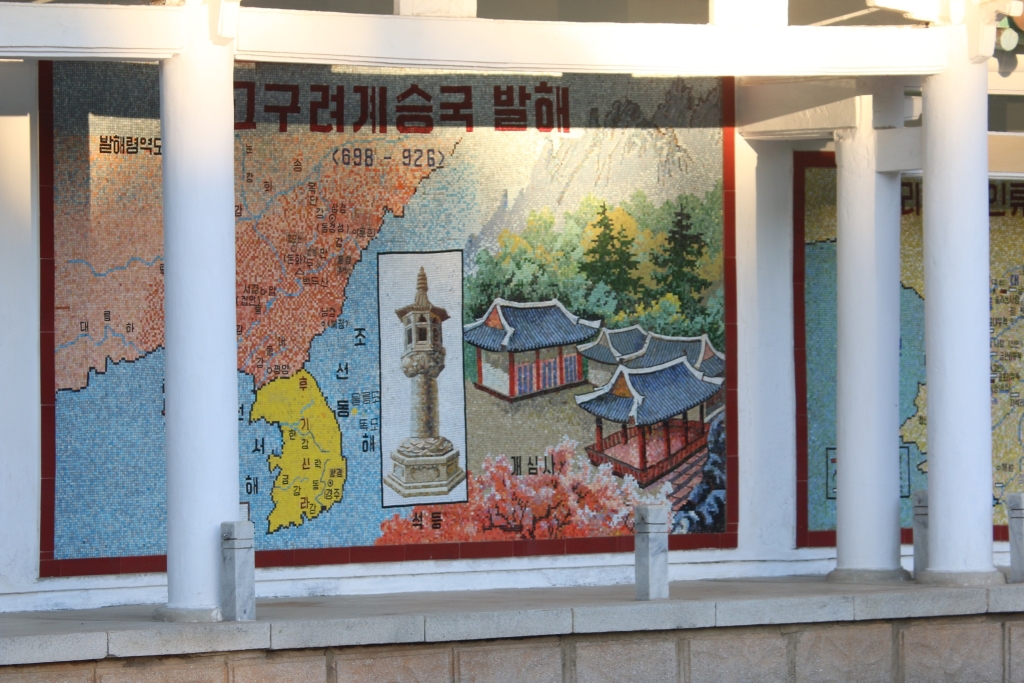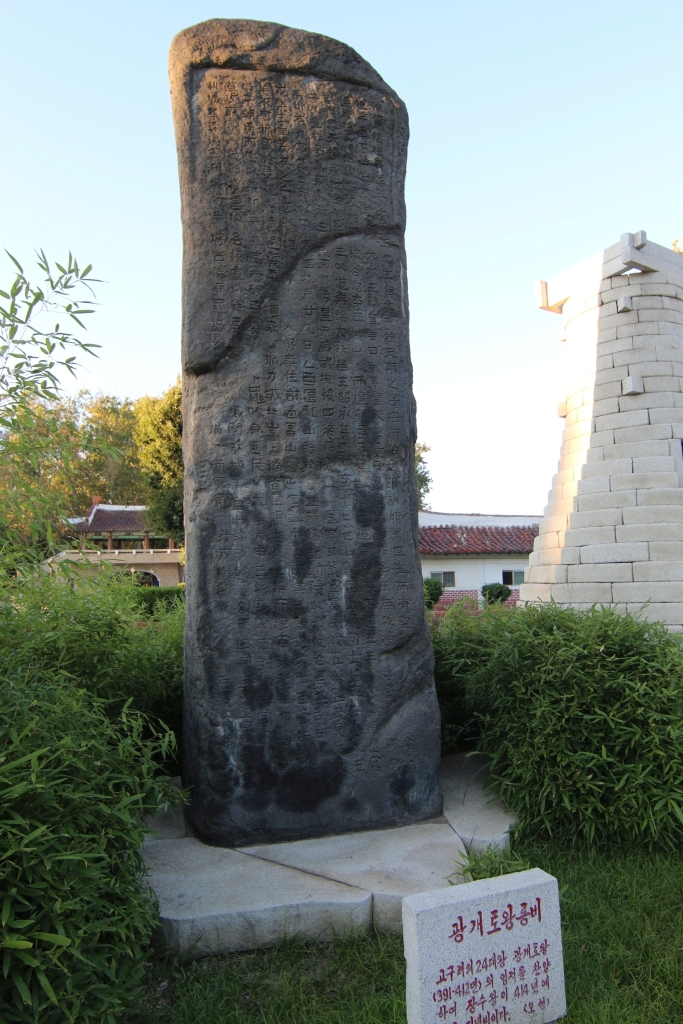 We go for a local speciality drink in some kind of restaurant. Sudden Power loss cuts the always present TV screen with constant propaganda and news.
Back in the hotel our guides again tell us "not to leave the hotel". For our own security.
Lovely Bathroom Installation.
In the evening it turns out that one of our rooms has a problem with the toilet. No chance to repair it, the travel guides offer to change their room.
Due to the spontaneity of this action, some things are not moved. Turns out that tourists get a higher quality toilet paper, some hygiene articles and nicer towels than the travel guides.