Some words beforehand:
This is mostly for myself to remind me about the short trip to North Korea in 2018 during their 70 years celebration. It is a pretty… ehm… unique destination. And to quote a good friend of mine: After 3 days there you have more to talk about than about spending 3 weeks in another place. If you want to have a really special trip: Go for it.
Small word of warning though:
If you are picky regarding hygiene, comfort or cannot follow local customs (even if they are completely against your own idea): Don't go.
If you still go you will have so many stories to tell…
Since we were very careful about taking pictures to ensure we do not upset our guides (too much), sadly about a lot of things there are only memories. Still, hope this small gallery and notes are enjoyable.
Anyway, here are my notes in bullet points 😉
Air Koryo in Beijing:

Economy Line is shorter than business class line.
Gerard Depardieu stands in front of us
Some kind of VIP in a wheelchair shows up: Around 5 guys taking pictures and making videos of him. He cuts the business class line and is checked in in record time.

On the plane:

I love the patriotic music and the stylish interieur of the plane!
Oh well… lots of forms to fill and the Air Koryo Burger is also… not that bad actually.
Landing:

Already during descending you can see the hotel in the shape of a rocket/christmas tree (…still not opened yet, even after being under construction since 20+ years)
The streets are pretty quiet
I love the scarecrows and cows next to the landing strip, who do not are about the plane landing.
At the airport:

Immigration is a painless process. Except that everything is checked more thoroughly by customs, e.g. for books. I left phone and all other electronic devices with a memory at home since they might be searched.
One of our guys is quicker than the rest. Obviously he was found immediately by our travel guys, they are already in deep conversation. In Chinese.
Turns out that our senior guide is a tour guide specialized on chinese tourists and the other one studied German for 2 months. Due to the special festivities this weekend, it seems that they gave us these guides since no others were available.
Funny detail: They did not know that all of us speak Mandarin. At least we did not tell them. Anyway, our senior travel guide is relieved.
Weird feeling to give away my passport to someone else so that they can take care about it. They are worried that we might lose them.

On the highway:

We do not dare to take lots of pictures yet. Our plan: First let the travel guides gain some trust.
At the same time, there would be some really nice motives: The empty streets in the city, the cyclists, the maintained greenery and the pretty interesting atmosphere around which still could be put into pictures.
Even more impressive when we enter the highway with 8 lanes. The road is not very well maintained and full of holes. Why you need a highway with 8 lanes for the few cars … not really sure.
Around every 20 minutes we pass a military checkpoint where our guide has to get out and show some documents to the guard before we are allowed to continue our travel.
Turns out that our junior travel guide does not only speak not any language, he also turns sick on the car easily. He is not used to car travel.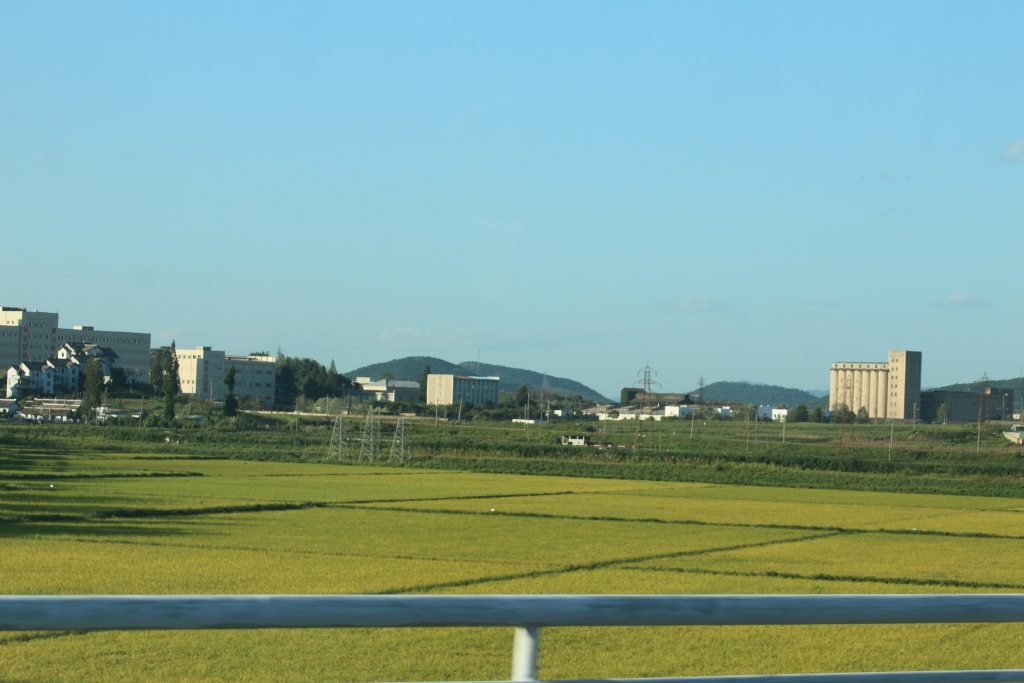 Seaman Club:

We arrive in the hotel with the great name as mentioned above. It was built for international Seaman who have a stopover on their travel in this area in Nampo.
As you might have guessed, not many people really stay here.
Especially impressive: The combination of toilet and hand-washing device.
Someone in our group takes a picture in the wrong direction obviously: Outwards to the sea. Since harbors are strategically important: Big mistake.
Even while it seemed that nobody is around while doing this, a travel guide magically appears and insists on "not taking a picture in that direction".
We go to dinner. The food is really good, we are sitting separately from our guides and have the whole restaurant for ourselves.
Especially impressive: The tissues seem to consist of blotting paper.
The travel guides are joining us after the dinner on our table and actually some pretty interesting conversations are coming up. Since it is becoming later and later, we get worried that the boss of the restaurant would like to go home at some point. He already changed from his suit to a more relaxed attire.
Our travel guide mentions we should not worry: He will not go home tonight.
The evening ends at some point in the restaurant, we go back to the "meeting area" and have some "Aberfeldy"-Whiskey as First-Aid against possible food contamination.
Time to sleep.